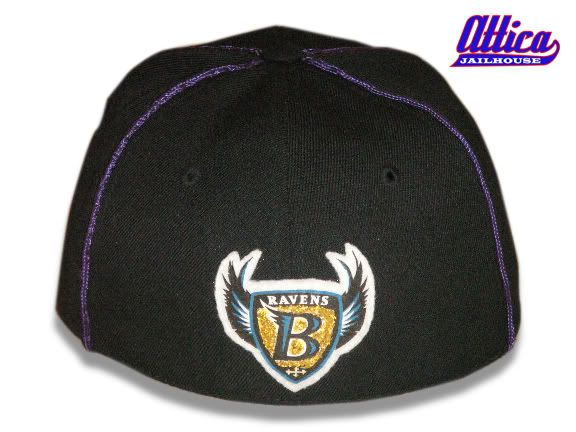 This cap is all mine!!!! Made with an vintage 1996 patch and transfer on felt patch on back of old logo. Gold glitter adorns the patch plus some purple piping to finish it off.
My boys put up a hell of a fight Monday before falling to the Pats. Go Ravens!!! We'll get'em next year.
Here's some info. on the old logo drama taken from
wikipedia
.
From 1996-1998, the team originally used a logo that featured raven wings flanking a shield with the letter "B". However, the US Fourth Circuit Court of Appeals affirmed a jury verdict that the logo infringed on the copyright in a logo drawing by Frederick E. Bouchat, a Maryland amateur artist and security guard.
Bouchat sued the Ravens, claiming that he was the first one to design the "B" shield shortly after the team announced their intentions to move to Baltimore. The team defended themselves, claiming that the logo was made independently. But the court ruled in favor of Bouchat, stating that team owner Modell had access to Bouchat's work: Bouchat had faxed a copy of his design to then-chairman of the Maryland Stadium Authority John Moag, who shared the same office building as Modell.[4] Ultimately, however, a jury later awarded Bouchat zero damages during the damages phase of the case.[5]
As a result of the lawsuit, a new logo was designed, featuring a purple and black raven's head in profile, with the letter "B" superimposed in metallic gold and white. The secondary logo of the Baltimore Ravens is a shield with alternating Calvert Banners in kind with the flag of Maryland (which incorporates the flag of Baltimore) interlocked with a stylized "B" and "R".